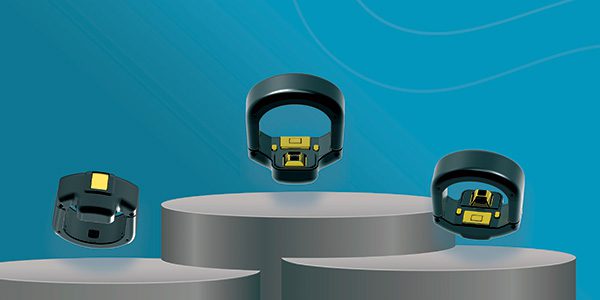 New circul+ has all the same functions as the original CIRCUL, but now has overnight skin temperature, improved battery life and new sensors that will provide improved metrics by end of 2021 with no additional hardware or cost.
CIRCUL Sleep and Fitness Ring
Price Reduced:  NOW $199
Sleek durable design and adjustable sizing from small to large; NO sizing kit needed just select one of three adjustable sizes small, large or extra large.  Works on all fingers.
For personal Home Oximetry use
Overnight sleep tracking including SpO2%, HR, ODI and 4 Sleep Stages (Awake, Light, Deep and REM Sleep)
Daytime Monitoring of SpO2 and Heart Rate for complete workout: running, hiking or biking
Record workouts and sleep; share with your trainer, physician, caregiver or family member
The difference and importance of continuous monitoring of Spo2 vs episodic
"Devices that measure oxygen saturation continuously during sleep, every time the heart beats (roughly once a second), store the data, analyze the data, and make it available to examine and share with doctors are very useful in monitoring health. Episodic or spot measurements (once a minute or every 15 minutes or less often) may miss the times  oxygen levels change quickly during sleep in some conditions." – Dr. Meir Kryger, MD, FRCPC
CIRCUL and circul+ continuously monitor Spo2.

CIRCUL is now FSA Eligible so you can use your pre-tax dollars to purchase the CIRCUL for day and night blood oxygenation monitoring while sleeping or awake!
About SIGIS
What Doctors and Customers Say
Sleep Statistics, Data and Facts
Sleeping 60 to 90 minutes more per night can make you happier and healthier.
– American Psychology Association
We dream 4-6 times per night but forget 95-99% of our dreams the next morning.
– G. William Domhoff
REM Sleep constitutes of 20% of our total sleep time while the remaining 80% are non-REM sleep stages.
– WebMD
Body Temperature Fluctuations GraphOur body temperature drops by 1-2 degrees during the night so it's perfectly normal to feel a bit chilly.
– WebMD
Sleeping In a Fetal Position 54.1% of adults prefer to sleep in the fetal position while 37.5% sleep on their back, even though it's the healthiest position.
– Nature and Science of Sleep
6-8% of the participants in one study reported a condition called "sexsomia" which means waking up in the middle of the night to get intimate with your partner.
– MDPI – Journal of Clinical Medicine
Announcing a partnership with the Vironix COVIDx Beta
This is the next step to better health!
BodiMetrics has collaborated with a novel AI digital health company called Vironix that specializes in remote monitoring, triage, and exacerbation detection associated with infectious and chronic illnesses.
In a most timely manner, they have rapidly crafted a triage software that merges the CIRCUL Ring with their interpretation algorithms to provide real time monitoring, screening, and at-home care of patients with COVID-19. Hence, if you're interested in doing monitoring of the symptoms, signs, and relevant summary statistics associated with COVID-19 and general lung health, you'll want to read the attached white paper.
This is a game changing set of technologies, and it has the potential to transform remote patient testing and dramatically improve health outcomes in both inpatient and outpatient settings.